Nishith Prakash
Associate Professor of Economics
Economics and Human Rights Institute
---
Nishith Prakash is an associate professor of economics on a joint position with the Department of Economics and the Human Rights Institute at the University of Connecticut, Storrs.
Born and raised in Bihar, India, he earned B.A. (honors) in economics from Shivaji College, an M.A. in economics from Delhi School of Economics, Delhi University (India), and a Ph.D. in economics from University of Houston, TX and was a post-doctoral research associate at Cornell University, NY from July 2010 till December 2011. He previously held visiting Assistant Professor Positions at Ohio University, and Dartmouth College and Visiting Fellow at Yale University, Columbia University, and Massachusetts Institute of Technology. Professor Prakash is a fellow with the Women and Public Policy Program at Harvard Kennedy School (2019-2021).
He is a Research Fellow at Centre for Research and Analysis of Migration (CReAM), The Institute for the Study of Labor (IZA), HiCN Households in Conflict Network (HiCN), Innovations for Poverty Action (IPA) Network Researcher, Global Labor Organization (GLO), and Member of Insights on Immigration and Development (INSIDE-SPAIN). He is currently serving on the Editorial Board of the journal Economies and is an Associate Editor at the Journal of Development Economics.
Prof. Prakash's primary research interests include development, political economy, public policy, and economics of education. Through his academic pursuit, Prof. Prakash has focused on the relationship between government policies and economic development and harnessed rigorous empirical evidence to study the impact of policies and institutions in enabling inclusive growth. He has experience in conducting surveys in developing countries, working with large-scale observational and administrative data sets, and conducting field experiments (RCTs). Prof. Prakash has worked closely with the Department of Education (in Bihar, Nepal, Zanzibar, and Zambia), and the State Police (in Bihar, and Telangana), and on several projects with the World Bank. His teaching interests include Development Economics, Applied Econometrics, and Economics of Gender and Inequality.
Professor Prakash's research has been covered in The Economist, World Bank Development Impact Blog, World Economic Forum, The Statesman, The Atlantic, The Hindu, The Times of India, and other national and international newspapers.
Education
Ph.D., University of Houston, TX, USA, 2008
M.A., Delhi School of Economics, Delhi, India, 2002
Research Interests
Development Economics, Political Economy, Public Policy, and Economics of Education
Appointments at the University of Connecticut
Sustainable Global Cities Initiative (SGCI)
Institute for Collaboration on Health, Intervention, and Policy (InCHIP)
Economic and Social Rights Group (ESRG)
Asian and Asian American Studies Institute
India Studies Program
Professional Appointments
Research Fellow, CESifo
Research Fellow, Global Labor Organization (GLO)
Research Fellow, Institute for the Study of Labor (IZA)
Research Fellow, Centre for Research and Analysis of Migration (CReAM)
Research Affiliate, Insights on Immigration and Development (INSIDE)
Research Affiliate, HiCN Households in Conflict Network (HiCN)
Selected Publications
Do Criminally Accused Politicians Affect Economic Outcomes? Evidence from India (with Yogesh Uppal, and Marc Rockmore), in Journal of Development Economics, Vol. 141, November 2019
The Role of Constitutions on Poverty: A Cross-National Investigation (with Lanse Minkler), in Journal of Comparative Economics, Vol. 45 (3), August 2017, pp. 563 – 581
Cycling to School: Increasing Secondary School Enrollment for Girls in India (with Karthik Muralidharan), in American Economic Journal: Applied Economics, Vol. 9 (3), July 2017, pp. 321 – 350
The Returns to English-Language Skills in India (with Mehtabul Azam, and Aimee Chin), Economic Development and Cultural Change, Vol. 61 (2), January 2013, pp. 335 – 367
Consumption and social identity: Evidence from India (with Melanie Khamis, and Zahra Siddique), in Journal of Economic Behavior & Organization, Vol. 83 (3), August 2012, pp. 353 – 371
The Redistributive Effects of Political Reservation for Minorities: Evidence from India (with Aimee Chin), in Journal of Development Economics, Vol. 96 (2), November 2011, pp. 265 – 277
Research Award
Grillo Family Award for Excellence in Research, 2017
Teaching Award
Grillo Family Award for Excellence in Teaching, 2016
Teaching Recognitions
Excellence in Teaching Letter from Provost, 2020
Excellence in Teaching Letter from Provost, 2019
Excellence in Teaching Letter from Provost, 2015
Courses Taught
Economic Development (ECON 6473)
Economic Development (ECON 3473)
Foundations of Gender Inequality (HRTS 3445/ECON 2445)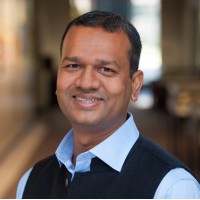 Email
nishith.prakash@uconn.edu
Phone
+1 860 486 8958
Fax
+ 1 860 486 4463
Mailing Address
Unit 1063
Office Location
331 Oak Hall
Campus
Storrs
Office Hours
Tuesday and Thursday 12:30 PM - 1:30 PM
Courses
Economic Development, Economic Foundations of Gender Inequality, and Principles of Microeconomics
Link
https://nishithprakash.com/
Research Interests

Development
Political Economy
Public Policy
Economics of Education
and Behavioral Economics