Oskar Harmon
Associate Professor
---
Office Hour Appointment
Harmon_VITAE_academic
Subject Areas: Economic Education, Information Technology, State and Local Public Finance
Subject Areas: Economic Education, Information Technology, State and Local Public Finance
Professor Harmon is associate professor of economics at the University since 1994. He offered the first course of Principles of Economics in online format at the University in 2004.  He is the manager of the Uconn Stamford FED Challenge Team since 2016.  He serves as a member of the American Economic Associations's Committee on Economic Education, and as Treasurer of the  Uconn Chapter of the American Association of University of Professors.
He publishes articles in academic journals on the subject of economic education and state and local tax analysis. He developed tax-revenue estimating software (TAM) for the Office of Policy and Management in the Executive Office of the Governor of Connecticut. He consults on the design of online courses.  He has consulted for the Connecticut and New York Legislatures, served as an expert witness.  He was a recipient of the Grillo Teaching Award 2012, and the Chancellor's Information Technology Award 2000 .
Education:
Ph.D., Economics, Rutgers University
M.A., Economics, Rutgers University
B.A. Economics, Clark University
Honors and Appointments:
— 2018 American Economic Association, Committee on Economic Education
— 2018 American Association of University Professors, Committee on the Economic Status of the Profession
— 2015 Service Learning Fellow, Uconn Institute of Teaching and Learning
— 2012 Grillo Family Faculty Award for Excellence in Teaching
— 2000 University of Connecticut Chancellor's Information Technology Award
— 1998 Neato.com CD Design Award
— 1979 Dissertation Research Award, Rutgers University
— 1975 University Scholar, New York University
Courses Taught:
— Sports Economics
— Information Technology for Economics
— Public Finance
— Contemporary Problems in Economics
— Principles of Economics (Intensive) Online
— Principles of Microeconomics Online
— Principles of Macroeconomics Online
— Empirical Methods in Economics I
Research Interests: State and Local Taxation, Online Instruction
Selected Publications
"A Randomized Assessment of Online Learning", American Economic Review Papers and Proceedings (2016) 106(5), 378-302  (with W. Alpert; K. Couch)
"Are Online Exams an Invitation to Cheat?," The Journal of Economic Education (2008) 39(2) (with J. Lambrinos).
"AMT: How and Why to Reform," Tax Notes (2001) 91(4), 667-671.
"The Optimal State Tax Portfolio Modei: An Extension"  National Tax Journal (1994), 47, 2, 395-402: (with R. Mallick).
"A New View of the Incidence of the Property Tax," Public Finance Review (1989) 17(3), 323-348.
"The Income Elasticity of Demand for Single-Family Owner-Occupied Housing: An Empirical Reconciliation," Journal of Urban Economics (1988) 24(2), 173-185.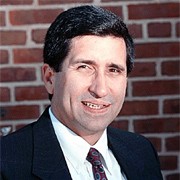 | | |
| --- | --- |
| Email | Oskar.Harmon@uconn.edu |
| Phone | +1 518 496-7642 |
| | +1 203 251 8415 |
| Mailing Address | Economics Department, One University Place, University of Connecticut, Stamford ,CT 06901 |
| Office Location | Room 328 Oak Hall |
| Office Hours | By appt. Tuesday 1:15 pm to 3:15 pm, nexus.uconn.edu |
| Courses | — Sports Economics — Information Technology for Economics — Public Finance — Contemporary Problems in Economics — Principles of Economics (Intensive) Online — Principles of Microeconomics Online — Principles of Macroeconomics Online — Empirical Methods in Economics I |