Photo L to R: Dennis Heffley, Perry Shapiro, Subhash Ray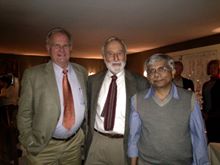 Prof. Dennis Heffley retired from the Department of Economics after 41 years at the University of Connecticut, including 4 years as the Department Head, 2005-2009. About 45 family members, current and former colleagues, many former graduate students, and Dennis's major adviser, Perry Shapiro, who traveled from California, gathered for a retirement party and to celebrate his many achievements in late December at the end of the fall semester.
Dennis expects to keep busy in his retirement and would love to hear from everybody. We thank Dennis for his many years of service to the Department and the University and wish him and his family the very best.
---