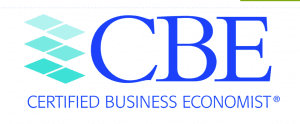 The National Association for Business Economics (NABE) recently announced that the Economics Department's Master of Science in Quantitative Economics (MSQE) program has been accepted to offer its Certified Business Economist® (CBE) professional certification. Students may now elect to earn their MSQE degree and CBE certification simultaneously.
Launched in 2015, the CBE is a comprehensive professional certification program of study and examination covering core topics in applied economics and data analytics. Students who matriculate in NABE certified master's degree programs are able to complete their CBE requirements while studying for their degrees and sit for the CBE Exam which will be offered on campus each year.  Other universities that offer similarly certified degrees include Boston College, Brandeis University, George Washington University and the University of Texas.
The Economics Department's MSQE program providing emphasizes the development of skills in quantitative methods and data analysis, as well as the application of those skills to economic problems. It is a STEM program that combines training in economic principles/theory with strong training in quantitative and analytical methods.  "We are pleased to be designated by NABE as a program certified in training business economists.  We seek to provide graduates with the quantitative and communication skills needed by the market place," said Chihwa Kao, Director of the UConn MSQE program.
https://www.nabe.com/NABE/CBE/NABE/CBE/CBE.aspx?hkey=e875b133-4409-4550-be45-72c5d81665b2