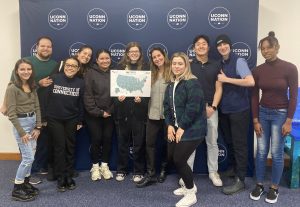 On February 23, 2023, the Federal Reserve Bank of St. Louis hosted the annual Women in Economics Symposium. This year the theme was "Role Models Matter". The agenda included notable women-economists, who shared their love of economics, their research, and their wisdom about how to build and navigate a career path in economics.
The symposium was held in a hybrid format, in which the in-person conference in St. Louis was combined with Watch Parties across the country. Professor Natalia Smirnova arranged for the Economics Department to hold two Watch Parties, in Storrs and in Stamford.
In Stamford, the symposium was designated as the Honors Program event, and they provided pizza and other snacks. Honors Program Assistant Director, Ms. Heenehan, helped with all the logistics during the preparation stage. Economics Professor, Dr. Patricia Ritter hosted the event. Nearly 20 students from political science, economics, and business attended the symposium. We thank Political Science Professor, Dr. Ginsberg for promoting the conference in her classes.
In Storrs, the organization of the Watch Party was done by Women and Minorities in Economics Club. This Club's activities include speaker series and various events focusing on promoting fruitful discussion about women and minorities' issues among Economics majors.
At the 2023 Women in Economics Symposium, students heard from exciting role models with fascinating careers in economics while also learning some practical tips about job searching, finding a mentor, and more. As we aspire to develop in our students the career readiness competencies, an exposure to national leaders in economics profession allows students to navigate career opportunities, network to build relationships, and clearly and effectively exchange information and perspectives with persons inside and outside of their home campus. These skills are transferable to students' post-graduation career and will help them showcase their professionalism during job search and interview processes.
---