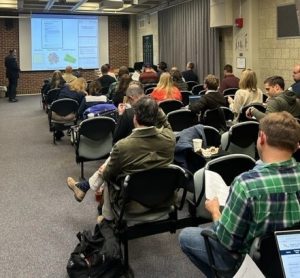 Finally in-person, emerging after the pandemic, 41 Early College Experience (ECE) Economics instructors participated in the annual professional development workshop on October 25, 2023 in Storrs.
The agenda was filled with active learning about resources for teaching three of the ECE Economics courses (ECON 1000, ECON 1201, and ECON 1202). Both micro- and macro- economics topics were covered, so every teacher was able to take away several ideas ready to be implemented in the classroom.
The presenters at the workshop were national experts in economic education: Scott A. Wolla, Economic Education Officer at the Federal Reserve Bank of St. Louis, and Ariel Slonim, Curriculum Designer at the Marginal Revolution University (MRU).
The attending instructors enthusiastically participated in the following activities:
Teaching Market Structures with Gum.
Supply, Demand, Action! Harnessing interactive tools to teach supply and demand.
Monetary Policy has Changed. Has Your Teaching?
Cracking the Code: Understanding GDP and Inflation through interactive tools.
Professor Smirnova, who is an ECE Economics Liaison, concluded the workshop with an interactive presentation "Teaching Diversity, Equity, and Inclusion Topics in Economics".
Economics is the biggest UConn ECE cohort:
We have 58 UConn ECE certified Economics instructors representing 42 different partner high schools across the state.
Last academic year, we had 785 students enrolled in 64 UConn Economics courses (ECON 1000, 1201, 1202). Since some students take more than one course, there were 1225 total enrollments.
ECE Economics program makes a big impact across the State!