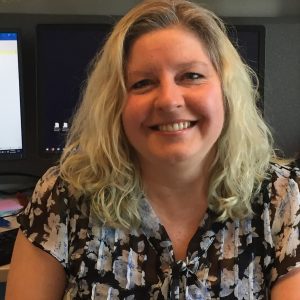 Lauren Munyard, Academic Advisor in the Department of Economics, has received an Outstanding Undergraduate Professional Staff Advisor Award.
"The goal of these awards is to recognize the extraordinary contributions of undergraduate academic advisors in supporting academic success and student development at the University of Connecticut.
Nominees have been evaluated on the basis of qualities and practices that distinguish them as an outstanding academic advisor. Award winners will have demonstrated sustained excellence in undergraduate advising and will have made a significant impact on their undergraduate advisees' intellectual development through sustained academic advising relationships."
https://advising.uconn.edu/outstanding-undergraduate-advisor-awards/
Information about the 2022 Undergraduate Advising Awards can be found here, along with Lauren's bio:
Lauren Munyard
Academic Advisor, Department of Economics, CLAS
Lauren has been an advisor for 18 years, including at Boston University's College of Communication and at UConn for 15 years as an advisor at the School of Business, Departments of Communication, Sociology, and Economics and at the CLAS Academic Services Center which serves as CLAS' central advising office. She specializes in working with a large population of students, using techniques and tools she has learned through advising in different areas along with innovation to best serve the needs of many students while making them feel like an individual.  Currently she advises in Economics, one of the largest majors in CLAS. She started the Uconnomist undergraduate e-newsletter, has been working on developing a peer advising system in her department and has helped to create and put into place many new systems and processes to help make a large advising office run. In her past, Lauren developed an advising center from the ground up and hired and led its student workers, graduate assistants and advisors as the department doubled in size in majors. She has supervised many graduate assistants who were learning the advising profession. She has also worked with majors at the Regional campuses and works extensively with many international students who have unique needs given the pandemic and travel restrictions. She supervises student workers and manages the free tutoring program, manages the enrollment and permission number process, and is on the Undergraduate Programs Committee and the committee for the Economics Department Undergraduate Awards.
She also manages the Program Plan Change program for CLAS and processes major and advisor changes for the school, manages the ECE and non-degree courses for CLAS and their application to the students' degrees, serves as the university contact for final plans of study issues and workflow and is on the University's Nexus Steering Committee that works to help evolve the Nexus program to suit the needs of UConn academic advisors. Lauren has offered many workshops to the advising community, including instructional trainings on Student Admin, Nexus, Excel tips, and how to advise large majors and serves as an advisor resource for Nexus questions and troubleshooting.
Lauren studied Communication at Houghton College and Boston University as well as earned minors in Writing and Business.  Lauren attended the State University of New York at Oswego before transferring to Houghton College her sophomore year. As she understands the complexities transfer students face from changing colleges, she especially enjoys working with the transfer student population to help make their transition to their new school as seamless as possible. Throughout her advising career, she has been a student group advisor for multiple groups that do volunteer activities. Lauren's passion is for animals and she volunteers her time working with animal rescues.