Professor Oskar Harmon has arranged for the screening of the film "Agents of Change" at the Stamford Campus (2/24 at 6:15 pm) and at the Konover Auditorium on the Storrs Campus (2/25 at 4:30 pm).
Admission is free, open to the public and will have a reception and post screening discussion with the co-producer Abby Ginzberg and writer Ibram Kendi. Also on 2/25 at the Storrs Campus, Abby will present a seminar on documentary film making, and Ibram will present a seminar on racism and diversity.
The film premiered Feb 11 at The 24th Annual Pan African Film and Arts Festival in Los Angeles, and won The Best Documentary Award
http://www.agentsofchangefilm.com
The event is co-sponsored by 12 UConn groups: Institute for African American Studies, Human Rights Institute, American Studies, Dodd Center, AAUP, Humanities Institute, El Instituto: The Institute of Latino, Caribbean and Latin American Studies, Digital Media Center, UCONN Stamford, UCONN Student Government Association, The Connecticut Information Technology Institute and School of Business, and the UConn Stamford Economics Club.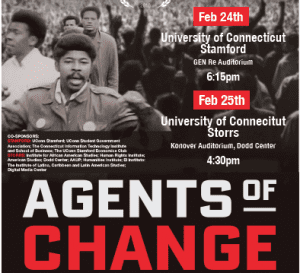 ---