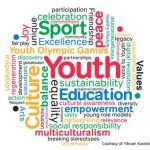 At the 2018 Sports and Society Conference Oskar Harmon participated in the panel "Activism in the 21th Century".
He presented his work on the confluence of patriotism, race, and politics in the  2017 NFL season.
The conference was hosted by the College of Mount Saint Vincent, NY on October 26, 2018.
The conference program is available at:
http://issuu.com/cmsvpubs/docs/sport_and_society_conference_2018?e=2331114/65248589