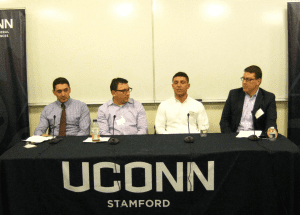 Four UConn Economics Alumni participated in a panel on the topic 'Jobs and Careers' at the UConn Stamford Campus, March 30, 2016.
The event was attended by 35 economics majors.
The participating alumni: Vitalie Alexandru '13 (CLAS), currently Financial Analyst – Stress Testing, People's United Bank; Michael Alpert '90 (CLAS) Portfolio Manager, Stralem & Company; Pedro DeAbreu '15 (CLAS) Gartner , Inc.; and Marketing Specialist; and Charles Triano '87 (CLAS) Senior Vice President, Investor Relations, Pfizer, Inc.
All panelists graduated with a major in Economics, two from the Storrs Campus, and two from the Stamford Campus. All were generous with their time, advice regarding courses and participation in college life, and praise for the quality of the UConn undergraduate experience.
Matt Fraulino, CLAS Assistant Director of Alumni Relations Alumni Relations, provided invaluable assistance in organizing the event. The event was co sponsored by: UConn CLAS Alumni Relations, UConn Foundation, and the UConn Stamford Economics Club.
---