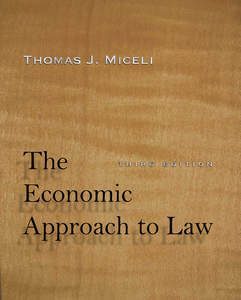 Stanford University Press has just published the third edition of Thomas J. Miceli's Law and Economics textbook.
From the publisher:
"Master teacher Thomas J. Miceli provides an introduction to law and economics that reveals how economic principles can explain the structure of the law and make it more efficient.
The third edition of this seminal textbook is thoroughly updated to include recent cases and the latest scholarship, with particular attention paid to torts, contracts, property rights, and the economics of crime. A new chapter organization, ideal for quarter- or semester-long courses, strengthens the book's focus on unifying themes in the field.
As Miceli tells a cohesive, analytical "story" about law from a distinctly economic perspective, exercises and problems encourage students to deepen their knowledge."
The Economic Approach to Law, Third Edition
---