Routledg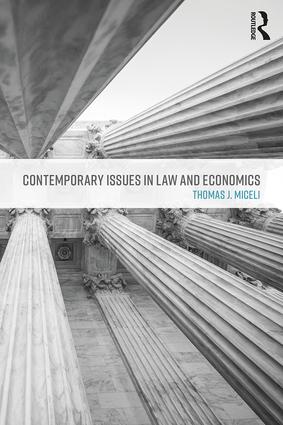 e has just published Contemporary Issues in Law and Economics by Thomas J. Miceli.
Law and economics is the field of study devoted to understanding laws and legal institutions using the tools of economic theory. This growing subject has become a mainstream area of study in both law schools and economics departments and this book explores the "law and economics" approach to some of the most interesting questions, issues, and topics in law, order, and justice.
Contemporary Issues in Law and Economics considers what economists call the "positive" analysis of the law – that is, using economic theory to explain the nature of the law as it actually exists. As part of this approach the author examines questions such as, what is the economic basis for the predominance of negligence rules in tort law? And, what is the explanation for the illegality of blackmail? Furthermore, another set of questions arises where the law seems to depart from the prescriptions of economic theory, and these issues are also examined in this volume. For example, the deeply rooted norm of proportionality between punishments and crimes, and the use of escalating penalties for repeat offenders, are both explored.
With self-contained chapters written in a non-technical style, this book offers a rigorous discussion of the above themes while remaining accessible to those without formal legal or economic training. It offers the ideal introduction to the field of law and economics while also providing a basis for students in more advanced courses.
https://www.routledge.com/Contemporary-Issues-in-Law-and-Economics/Miceli/p/book/9781138099760
---