The New York FED is one of five Federal Reserve Banks that host the FED Challenge Competition. The regional winners go to the final round at the FED in Washington D.C.  College Fed Challenge is a team competition for undergraduate students. Teams analyze economic and financial conditions and formulate a monetary policy recommendation, modeling the Federal Open Market Committee.
The 5 tea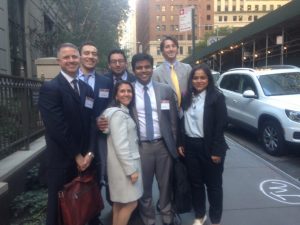 m participants were:
Front row: Ryan Dodd,  Olga Jaramillo; Middle row: Chris McLaughlin (a two time participant), graduate assistants PD Aditya and Gul-e-Rana; Back row: Esteban Peralta, Randall Giles.
The students were assisted in their preparations by Professors Oskar Harmon, Kanda Naknoi and Steven Lanza.
The team received invaluable assistance from three graduate student assistants (PD Aditya , Di Yang, and Gul-e-Rana from the Stamford Business School MBA.
---