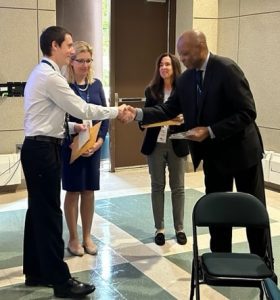 Matthew Dalzell's ('25) research paper "The Impact of Privately Owned Buses on Carbon Dioxide Emissions in Connecticut", written in the Spring 2023 during the ECON 3431W Public Economics course taught by Professor Smirnova at the Stamford campus, was accepted for presentation at the New York State Economics Association (NYSEA) as part of the undergraduate papers competition.
On October 21, 2023, Matthew Dalzell ('25) presented his research to a panel of judges among seven undergraduate papers that were selected.
The submitted research papers are judged in two rounds. The first round consists of the assessment of quality of papers by judges, who are professors of economics, finance, and business at various universities-members of NYSEA. From a dozen submitted undergraduate papers, seven were selected for the second round and invited to present at the conference.
The second round, which consists of paper presentation, was held as part of the NYSEA annual conference. This year, the conference was held on the campus of SUNY Old Westbury on Long Island, NY. Seven selected papers were presented at an open forum in front of the panel of judges as well as of other conference attendees (professors, professionals, and graduate students). Within this round, the presentation skills, and the ability to defend one's research were assessed.
Matthew Dalzell ('25) provided a thorough presentation and answered many questions from judges and audience as he passionately talked about the impact of transportation industry on climate change. He put forward several policy ideas about mitigation of CO2 emissions in Connecticut.
The exposure of undergraduate students to outside audiences as they present their research helps them develop such career competencies as professionalism, communication, and self-development.
Congratulations, Matthew, on the job well done!