This Fall 2021, UConn Stamford team participated again in the College Fed Challenge national competition. College Fed Challenge is a team competition for undergraduate students. Teams analyze economic and financial conditions and formulate a monetary policy recommendation, modeling the Federal Open Market Committee.
In 2021 the competition once again was virtual. Each team had to create and then upload a 15-minute video presentation encompassing the following:
An analysis of current economic conditions (as of the day of the competition); these conditions may include broad macroeconomic conditions as well as conditions experienced in different geographic areas, in urban/rural areas, or among different demographic and socioeconomic groups (e.g., racial and ethnic groups, age groups), borrowers and savers, etc.
A forecast of near-term economic and financial conditions relevant to the formulation of monetary policy.
A discussion of significant risks to the economy that should receive special attention in formulating monetary policy; these risks may include the possible effects (positive or negative) of monetary policies on different segments of the population.
A monetary policy recommendation, encompassing both traditional tools and newer approaches as warranted; presenters should give supporting reasons for their recommendation.
The Stamford team consisted of six students who divided their responsibilities for research, organization, presentation, and video creation according to their passions, skills, and interests. Here is the team:
Aidan Connolly (Captain) is a seasoned team leader with extensive experience in data-driven decision making. He is currently finishing his final semester at The University of Connecticut, where he will graduate with a Bachelor of Arts in Economics this December. Aidan was elected by his peers to lead the UConn College Fed Challenge Team. His areas of expertise include public speaking, sustainable economic practices, and quantitative modeling. Aidan enjoys cycling, skiing, and socializing in his free time. After graduation in December of 2021, Aidan will continue to consult with the UConn College Fed Challenge Team and begin his career in software sales. Read Aidan's reflection about the course here.
Gabriella Barg is a senior majoring in Economics with a minor in Accounting. Taking part in the Fed challenge in her remaining semesters has been one of the most academically enriching adventures in her undergrad. The freedom to choose what to research in the current American economy within diverse themes is an informative experience. After spring 2022 graduation, she looks forward to carrying on her refined skills in her professional life, pursuing a Master's in Accounting Fall 2022. Read Gabriella's reflection about the course here.
Jorge Cuautla Jr. is a proficient researcher with substantive experience. Combined with the resourcefulness and analytical capabilities, the introduction of the College Fed Challenge was the perfect opportunity to showcase his research abilities. Jorge's focus as a member of the College Fed Challenge team was the United States Gross Domestic Product (or GDP). The participation in the College Fed Challenge expanded Jorge's employment opportunities. With positions offered by Amazon, PepsiCo, Northwestern Mutual, and much more, it was difficult to narrow down a future home. Post-graduation, Jorge will continue his macroeconomics research while working as an Analyst at TD Bank. Read Jorge's reflection about the course here.
Matt Gilshteyn is a sophomore at UConn, majoring in Marketing Management. This is his second semester as a Practicum team member. This course helped him develop a better understanding of the Federal Reserve's influence on our economy and how real-life projects are completed. The class also demonstrated how different sectors and industries contribute to the decisions of the Federal Reserve. Matt selected the energy sector in hopes of better understanding this sector and its operations. He focused on renewable energy because it showed serious potential for growth within the energy sector. Researching and interpreting data was very insightful, and the skills that he developed helped explain how the energy sector can impact the Fed's decision. Read Matt's reflection about the course here.
Sava Logvinski is an experienced negotiator, with an extensive background in team development. His ambitions are high, and dreams are endless. Sava is one who emphasizes the value of asking questions. He enjoys learning new concepts and is quick to grasp them. The Fed Challenge allowed him to gain a holistic approach to monetary policy, implementing his fundamental economic analysis obtained at UConn. He focused on the sector of employment, specifically on automation and future outlook. As a senior majoring in Economics, Sava interviewed this semester with several companies. After careful consideration, he decided to accept his offer with Celonis starting January 2022. Celonis is the world's leading process mining software company. Process Mining is a new big data analytics technology designed to help customers optimize their operations. Process Mining goes through the already existing log data every IT system produces and finds out where improvements are needed. Why? In order to be more efficient than your competitors, get rid of bottlenecks, make your customers even happier and create processes that everybody loves to deal with. The Fed Challenge prepared Sava with public speaking and presentation skills needed to succeed in the world of sales. Through studying new AI technology and understanding the economic impacts, he was able to identify proper use cases, and deliver. He is excited to begin his journey post graduation, and help businesses unlock full execution capacity. Read Sava's reflection about the course here.
Ashley Balta (alternate) grew up in Greenwich and graduated from Greenwich High School. Ashley is a first-generation college student, and she participated in the AVID program to help her with the process of higher education. At UConn, she majored in Economics. Ashley enjoys the arts as she has been dancing ballet at the Ballet School of Stamford since the age of 3. As a member of the diversity club, she continued her volunteering work for the AVID program as a mentor. Currently, Ashley is starting the foundation of her small-Hispanic-owned business. After graduation, she plans to pursue her master's for further education. Since joining the Fed Challenge course over the summer, she realized it was the perfect opportunity to increase her knowledge of several sectors of the economy. Being a student-led class, this course taught her the fundamentals of planning, impact instructions, and work-related responsibilities. Read Ashley's reflection about the course here.
All students worked diligently and cooperatively through two semesters. The final video presentation can be seen here. Even though, the Stamford team was not selected to advance into the final round, the team is proud of the work they have done.
As students' reflections show, the participation in the Challenge is very rewarding. In addition to learning about the economy and monetary policy, students gain skills in research, analysis, and teamwork, all of which are transferable to their future careers and academic endeavors.
Congratulations UConn – Stamford College Fed Challenge Team 2021!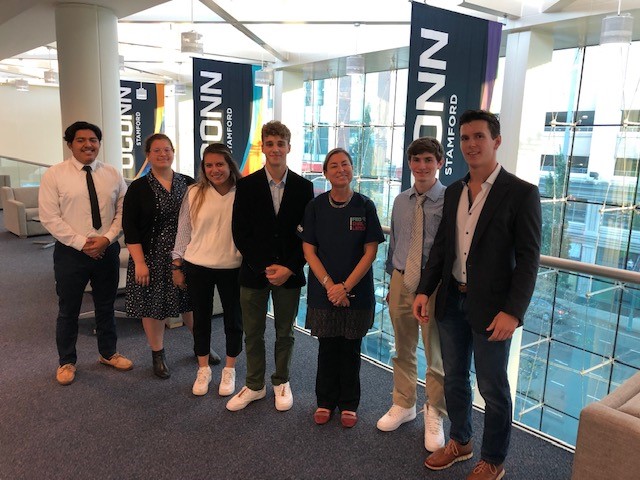 Photo (left to right): Jorge Cuautla, Gabriella Barg, Ashley Balta, Sava Logvinski, Dr. Smirnova, Matt Gilshteyn, Aidan Connolly.