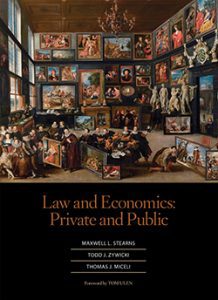 Law and Economics: Private and Public, a coursebook by Professor Thomas Miceli and co-authors, is now available. From the publisher:
This accessible volume integrates wide-ranging economic methodologies with a vast array of legal subjects. Coverage includes the first-year law school curriculum along with institutions and doctrines comprising the core foundation of upper level legal study. Dedicated chapters introduce neoclassical economics, interest group theory, social choice, and game theory, and the book intersperses alternative methodological insights.
The analysis synthesizes these methodologies with modern and classic case law, other legal materials, and policy discussions inspired by current events. Ideal for a law school seminar or capstone course, this unique volume is also perfectly suited for business school courses on legal methods and public policy. Professors will find a rich array of materials adaptable to varying pedagogical styles and substantive areas of emphasis. Students exploring these materials will emerge with a deeper understanding of law and economics and a greater appreciation of our lawmaking institutions.
https://faculty.westacademic.com/Book/Detail?id=18210&q=stearns
---