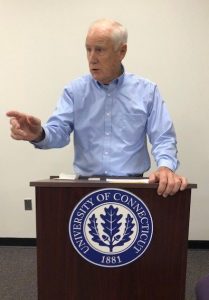 Mr. Peter Becket, a proprietor of Becket Business Appraisals, LLC visited the ECON 3413 Financial Economics class at Stamford on September 15, 2022. In this course, students learn company valuation techniques and apply those to a selected publicly traded company.
Mr. Becket has been an appraiser of privately owned businesses for over 40 years. So, his presentation gave students a real-world view of how he goes about valuing businesses that are not publicly traded.
Peter's very engaging and interactive presentation showed how financial statements analysis and discounted future cash flow methodology are used in evaluating financial prospects of a closely held companies. Students learnt many nuances of appraisal business, which are not covered in the textbook. Peter shared several publications that present data of financial ratios, for example, which could be consulted for a benchmark analysis. He also explained his proprietary methodology for company valuation. Students were able to ask questions about the business and seek Peter's advice about their career aspirations.
Mr. Becket encouraged students to invest in their learning, join professional associations, and start their careers working for someone else before venturing on their own if they decide to start their own professional practice. His talk connected the textbook material to the real-world appraisal business.
Dr. Smirnova, who is the instructor in this class, and the students are grateful to Mr. Becket for his time and invaluable wisdom, suggestions, and encouragement. The talk was very fun, as well.
---