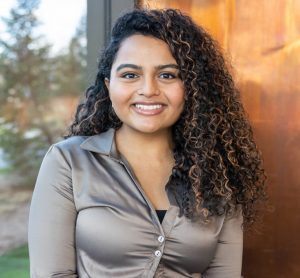 Economics undergraduate student Nidhi Nair has been featured in UConn Today as the university's first-ever recipient of the prestigious Schwarzman Scholar award.
Nair is an honors student double-majoring in economics and mathematics-statistics and was selected from more than 3,000 applicants to join a cohort of 150 other Schwarzman scholars from around the world in Beijing to complete a one-year master's degree. Recipients of this award are selected on the basis of leadership abilities and potential to bridge political and cultural differences.
Nidhi Nair founded last year's Invisible Hand Economics seminar series and is the president of the UConn Economics Society, as well as being involved in the Women and Minorities in Economics organization here at UConn. Nair has worked on multiple economics research projects here at UConn, and has completed several research and advocacy focused internships at different organizations.
Nair noted the support of her Honors advisor, Economics Professor Richard Langlois in her interview for UConn Today: "Dr. Langlois has also been a source of support and has provided invaluable advice on carving out a strong career in economics that advances my interests in socioeconomic mobility and microeconomic analysis."
Read the full article online: Nidhi Nair '23 Named UConn's First Schwarzman Scholar