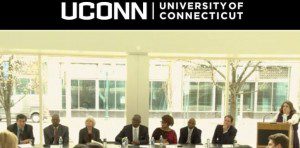 Prof. Harmon was a panelist at an event celebrating the 50th anniversary of the Voting Rights Act of 1965.  The panel addressed voter disenfranchisement including current/past court challenges to the Voting Rights Act, and stricter voting requirements, following passage of this landmark legislation.
The panel was moderated by Professor Beth Ginsberg (UConn Political Science).  The panelists were US Congressman Jim Hines; Scot X. Esdaile – CT NAACP State Chair; Professor Harmon; Khalilah L. Brown – Dean Quinnipiac University; Rev. Tommie Jackson – Faith Tabernacle Missionary Baptist Church; Michael Pollard – Chief of Staff for Stamford Mayor David Martin; Jasmine Pierre – Future 5 of NAACP; and Peggy Reeves – CT Secretary of State Election Affairs.
The event (April 11) was attended by approximately 75 students and community members.  It was held in the main concourse of the Stamford Campus.  It was organized by the staff of Congressman Jim Hines; Terrence Cheng, Director of the Stamford Campus; Jack Bryant, President NAACP Stamford Chapter; and Professors Ginsberg and Harmon as part of their Spring 2016 Service Learning Courses.
---