In a recent workshop for nineteen University of Connecticut Early College Experience Instructors, Professors Mike Shor, Steve Lanza, Delia Furtado and Bill Alpert presented the principles instructors with current economic thinking concerning game theory, the law and economics, effects of immigration on the domestic labor market, and monetary/macroeconomics for principles level students.
The Early College Experience (ECE) program is a concurrent enrollment program that allows motivated high school students to take UConn courses at their high schools for both high school and college credit. Every course taken through UConn ECE is equivalent to the same course at the University of Connecticut. Students benefit by taking college courses in a setting that is both familiar and conducive to learning. High school instructors who have been certified through the University of Connecticut serve as adjunct faculty members and teach UConn ECE courses.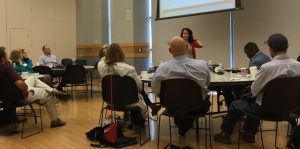 Established in 1955, UConn Early College Experience is the nation's longest running concurrent enrollment program and is accredited by The National Alliance of Concurrent Enrollment Partnerships. In the last decade, the Economics Program has grown from two instructors in two Connecticut high schools to almost 40 instructors in 30 Connecticut high schools offering the Principles of Economics classes and Economics 1000.
For more information see:  http://ece.uconn.edu/
---