The Economics Department Early College Experience Program held its annual workshop for teachers on November 1 at the Storrs Campus. The workshop was attended by 25 teachers from high schools across the state who hold the positions of instructor and preceptor of economics responsible for teaching high school students Principles of Microeconomics (Economics 1201), Principles of Macroeconomics (Economics 1202) and Essentials of Economics (Economics 1000) in their high school.
The teachers who attended, learned from a program they inspired by suggesting topics in the spring of 2018.  Highlights of this year's program included Professor Nishith Prakash presenting his work entitled "Gender, Crime and Punishment", which provided a peek at original economics research.  The teachers were excited by this work and raised numerous questions.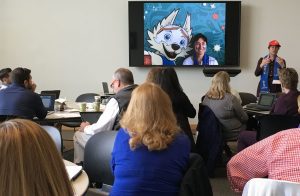 Professor Prakash's paper was followed by a presentation by Professor Natalia Smirnova (a UConn Economics Ph.D.) entitled "Oligarchs and Ivans:  A Changing Russian Economy 1990-2020" in which Professor Smirnova provided both background and predictions for the modern Russian Economy including a look forward.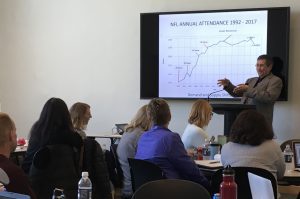 Professor Oskar R. Harmon, who is doing research and teaching about sports economics, presented an exciting session entitled "Sports Economics and Principals of Economics" over lunch.  Professor Harmon was followed on the program by Mr. Paul Conant explaining the Kyoto Treaty to the teachers in a session titled "Kyoto and Beyond."
ECE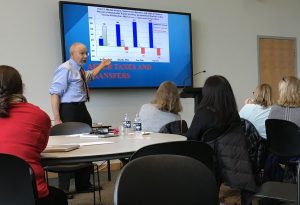 Economics Coordinator and Emeritus Professor of Economics Bill Alpert capped off the day with his discussion "Income Distribution: What's the Matter?"   
After continuing discussion the workshop was adjourned.   
---