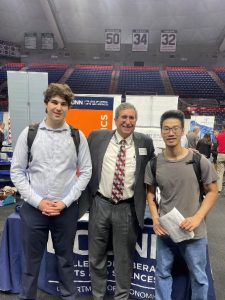 Professor Oskar Harmon and Graduate Program Assistant Lisa Bono represented the MSQE Program at three UConn Career Fairs this Fall semester – the UConn Storrs All Majors Career Fair, the UConn Storrs Stem Career Fair, and the UConn Stamford Career Fair.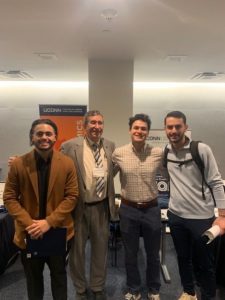 At the table we distributed brochures describing the program, gave away some of our branded swag, including a raffle for an MSQE custom-made Columbia fleece jacket, and signed students up for our upcoming Info Sessions and Newsletters.
From seniors interested in the MSQE Program and undergraduates interested in the "4+1" accelerated program option, we collected 60+ email addresses from the Storrs and Stamford Fairs. We also networked with many recruiters interested in learning more about the MSQE program and in potentially hiring MSQE graduates.