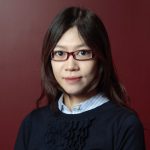 Huanan Xu, Ph.D. '16, was awarded tenure and promotion to Associate Professor of Economics at Indiana University South Bend's Judd Leighton School of Business and Economics. Her main research interests are in the areas of labor and demographic economics, immigration, and the economics of education, but she has several recent papers examining the labor market impacts of the COVID-19 pandemic.
Since defending her dissertation and leaving UConn, she has maintained close connections to our department, coauthoring with Professor Ken Couch (Journal of Public Economics 2020 and Economic Inquiry 2022), Professor Delia Furtado (Labour Economics 2019), and Tao Song, Ph.D. '17 (Southern Economic Journal 2020).
Congratulations, Huanan!