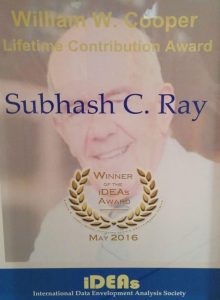 The International Data Envelopment Society (iDEAs) selected Professor Subhash Ray as this year's winner of the William W. Cooper Lifetime Contribution Award in the field of Data Envelopment Analysis at the DEA2016 Conference recently held in Wuhan, China.
Professor William Cooper and his lifelong collaborator Abraham Charnes, along with their graduate student Eduardo Rhodes, developed Data Envelopment Analysis (DEA) in 1978 as a nonparametric method of measuring efficiency that is especially useful for evaluating performance of non-profit organizations and government departments through benchmarking.
In 1979, while still a PhD student, Professor Ray started working on DEA and applied the newly developed method in a UNDP project to measure efficiency of primary health care centers in Costa Rica and Guatemala.
Over the past decades Professor Ray's methodological and empirical contributions to the DEA literature have been published in leading Economics and Operations Research/Management Science journals including American Economic Review and Management Science.
His book Data Envelopment Analysis: Theory and Techniques for Economics and Operations Research published by Cambridge University Press in 2004 still continues to be a popular reference book for researchers in the field. He is a Senior Editor of The DEA Journal.