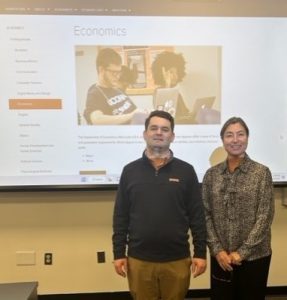 Kyle Richter graduated from UConn-Stamford in December 2021 and is currently an Investment Banking Associate at Capital Research Partners & Co., a boutique investment bank in Norwalk, CT that specializes in restructuring, capital raising, and mergers & acquisitions. The Center for Career Development at Stamford and Dr. Smirnova worked together to arrange Kyle's visit to ECON 3413 — Financial Economics class on December 6, 2022.
The class started with students' presentations of financial analysis reports that they completed during the semester. The assignment was to select a publicly traded company, obtain a series of financial reports, analyze financials statements and ratios, and apply one of the methods of stock valuation that were covered in the course. Students wrote a short report justifying their "buy/sell" recommendation and were defending their findings via oral presentation. Kyle was able to assess students' work and ask clarifying questions.
Kyle took Financial Economics in the Spring of 2021 and was happy to share with students how he uses what he learned in this class every day at work. He talked about uses of financial statements, benchmarking, and trend analyses for valuation of companies and M&A deals. He explained the differences in structure and culture between small firms and large corporations.
Students engaged in a productive discussion with Kyle. They asked questions pertaining to job search after graduation and about careers in finance. Kyle shared his story of job search and his ambitions for the future. He suggested using this class's report as a showcase of financial industry skills during the interview process at any financial firm. Understanding of nasic financial concepts, concise writing, and presentation skills are essential for getting a job in finance.
After the Financial Economics class, Kyle Richter met with students in ECON 3492 – Practicum class. This is a special course where Stamford team participates in national competitions. Here, the discussion with students focused on careers, career competencies, and networking. Kyle offered his help in giving feedback on students' resumes and in mentoring students as they navigate job search and connections with professional networks.
Overall, the visit was very productive and interesting. We thank Kyle Richter for coming to our campus, mentoring our students, and engaging with the University.
---