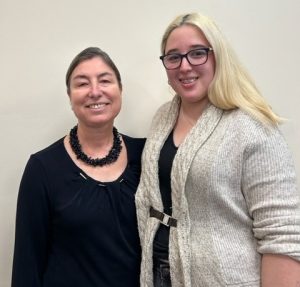 Stamford students in ECON 2411 "Money and Banking" class taught by Dr. Smirnova were treated to a special guest visit on February 14, 2023. UConn Stamford Economics alumna, Viviana Castillo, CLAS '20, who is Principal Finance Analyst at GlobalFoundries shared her wisdom about building knowledge base and career-relevant skills while in college, about finding a job upon graduation, about graduate school, and about current job market in the intersection of economics, finance, and tech.
While at UConn Stamford, Viviana worked in the banking industry, but she managed her time well, which allowed her to participate in the College Fed Challenge competition in 2019 as Stamford team member. She graduated in the midst of the pandemic in the Spring 2020, but did not slow down and entered graduate school at Columbia University. She continued working in the banking industry, gaining experience. After graduating with a Masters in Risk Management degree, she moved to a more interesting job in FinTech.
Viviana Castillo shared with students her approach to gaining new skills in order to prepare for demands of ever-evolving job market. She encouraged students to become career ready. In addition to content knowledge in their academic fields, students need to develop career competencies that are in high demand in the workplace, such as critical thinking, communication, and professionalism.
Students asked a lot of questions, shared their anxieties, and were grateful for Viviana's effort to meet with them. Business leaders' and young alumni's visits to ongoing classes are an exciting way to connect our students to the world outside the academy and prepare them for careers upon graduation.