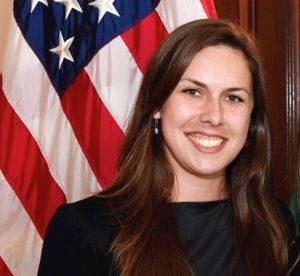 Stamford students in ECON 3431W Public Economics class were treated for a special visit from the UConn alumna, Ms. Katherine Bradbury, who is Director for International Economics and Competitiveness program of the National Security Council at the White House.
As the curriculum of the Public Economics course, taught by Professor Smirnova, includes such topics as Fiscal Federalism, and State and Local Government Finance, a visit from the White House staff seems like an excellent fit. Working with the Center for Career Development in Stamford and UConn Alumni Office, we were able to secure Katherine Bradbury's virtual visit to this class on April 6, 2023.
Our discussion went much deeper than the curriculum topics, however. Students shifted it into the realm of career readiness and skills that are essential for a public sector job.
Ms. Bradbury talked about the importance of being a competent person, no matter what major you are pursuing in college. She shared her strive to be a well-rounded professional, the foundation of which was set by the liberal arts education she has gotten at UConn. At the White House, she said, the main trait is the ability to maintain composure under stress and the ability to critically think about a situation at hand.
Students understood that internships and extra-curricular activities will help them show a unique set of skills and experiences that they can leverage at a job interview. They were fascinated with Katherine's story about taking the photograph with Mr. Joe Biden and the high-level description of what she does at the White House.
Such visits by alumni are very important for students' career and self-development as well as growth in professionalism. The interactions with alumni open their eyes on various career paths that could be pursued with their major.
We thank Ms. Katherine Bradbury for the time she carved out for us and for her inspirational conversation with students.
---