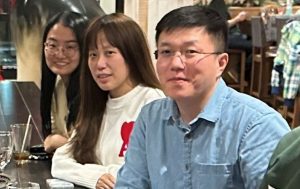 We are delighted to share that three of our 5th-year PhD students focusing in econometrics, Xuejian Gong, Ruohan Huang, and Ziyun Wu, recently accepted (full-time) job offers in the US financial industry.
Xuejian has accepted a job offer as assistant vice president for wholesale credit risk management at Citi Institutional Clients Group. His dissertation (advised by Professor Duke Kao) is about applying distributionally robust optimization in economic and financial models. Ruohan has started her career at OneMain General Services Corporation as a senior analyst in credit, pricing, and analytics. The subject of her dissertation (advised by Professor Jungbin Hwang) is financial econometrics, focusing on empirical asset pricing models. Lastly, Ziyun has started work as a data scientist at Hartford Steam Boiler – Munich Re. Her dissertation (advised by Professor Duke Kao) studies the machine learning approach in asset pricing.
All three students commented that their programming language skills and understanding of various econometrics/statistical theories from their PhD training were key factors for their success in the job market. Also, they pointed out the importance of earlier preparations for the industry job market, as most companies for quantitative analyst positions have at least two rounds of interviews for coding and critical thinking.
We are again pleased to congratulate our PhD students' achievements in their job markets and know that they will have great success in their careers in financial industries!
---