Treena Goswami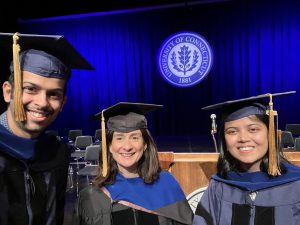 presented her paper, "Immigrants and Labor Market Decisions of Older Natives" at the Population Association of America (PAA) Annual Meeting held in April this year in New Orleans. She will start a position at the University of Virginia's Biocomplexity Institute in the Social and Decision Analytics Division.
In May, Abdulmohsen Almuhaisen presented his paper, "Immigration Enforcement and the Institutionalization of Elderly Americans ," coauthored with Professor Delia Furtado and Catalina Amuedo-Dorantes from UC-Merced, at the Annual Meeting of the Society of Labor Economists (SOLE) in Philadelphia. He will return to Saudi Arabia to work at the Saudi Central Bank in the late summer.
Both were hooded at this year's Commencement Ceremonies by advisor, Professor Delia Furtado.
Congratulations and good luck, Treena and Abdulmohsen!
---