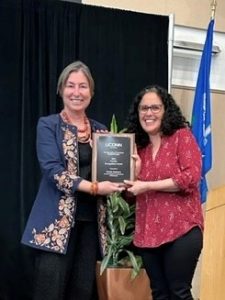 Every year, UConn Stamford campus administration recognizes two faculty members and a staff member for their contribution to the campus community. This year, Dr. Smirnova from the Department of Economics was one of the Faculty Recognition Award recipients.
This award is given annually to a faculty member who made significant contributions through their scholarly activities or service benefiting the University community. Recipients demonstrate high standards for academic achievement, sincerity and enthusiasm in teaching, relate classroom learning to real life situations, motivate students to excel, and respect students' opinions.
On October 10, 2023, Dr. Tropp, Director of Academic Affairs & Associate Director of the Stamford Campus, presented the Award and shared commendations from multiple students.
"Dr. Smirnova is an innovative, enthusiastic professor who nurtures creativity and stimulates critical thinking and self-reflection within her students. She strives to engage her students by employing active learning techniques, team-based learning, and real-world application of course topics. She helps students to embark on their career exploration early on by inviting alumni/employers into the classroom to give students information firsthand from industry experts."
"Over the past year, I have had the opportunity to engage in Dr. Smirnova's classes and experiential learning initiatives at UConn. She has made a profound impact on who I am as a student, and my future career path."
---