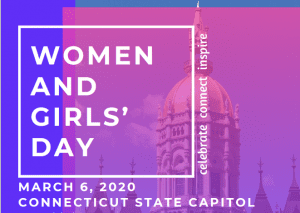 On March 6, 2020, Dr. Natalia Smirnova and Dr. Tianxu Chen represented the Economics Department at the "Women and Girls' Day at the Capitol 2020" cohosted by The Governor's Council on Women and Girls, The Commission on Women, Children, Seniors, Equity & Opportunity; and The Women's Suffrage Commission.
The theme for the event was CELEBRATE – CONNECT – INSPIRE:
To CELEBRATE the progress made by women in honor of Women's History Month and the 100 Year Anniversary of Women's Suffrage.
To CONNECT the state community to resources and opportunities that are available to the public, such as:
Career information.
Health & safety services and information.
Women leaders in STEAM and underrepresented fields — hence Economics!
Resources for women-owned businesses and entrepreneurs.
To INSPIRE women and girls to design their own paths (providing a broad scope of role models for them to become inspired).
The intended audience for the day was female high school juniors and seniors, and women from across Connecticut. A total of 300 individuals attended, with half of them being high school aged girls. Both Dr. Smirnova and Dr. Chen were excited to share their love of economics with the attendees. The event was worthwhile for everyone!