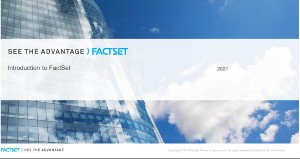 FactSet creates data and software solutions for investment professionals around the world, providing instant access to financial data and analytics that investors use to make crucial investment decisions. The company was founded in 1978 and is headquartered in Norwalk, CT, a short distance from the Stamford campus.
All UConn Stamford students now have access to FactSet data portal through the terminals located in Jeremy Richard Library. Because students in Dr. Smirnova's Financial Economics (ECON 3413) class are engaged in a project valuating a company of their choice, they used FactSet to get financial performance data and other information about the company they have selected, its competitors, and the industry, in which the company operates. However, there is a lot more depth to FactSet.
UConn Stamford Center for Career Development had arranged for a special (virtual) visit of FactSet's Academic Specialist, Andi Huff, to Financial Economics class. On November 18, 2021, Andi demonstrated for students many features of FactSet portal. This knowledge will help students not only in completing the semester project, but also in developing skills in data analytics, and in utilizing this data source in other Economics courses as well as in other disciplines.
Ms. Andi Huff also introduces students to various career opportunities available at FactSet, such as Student Ambassador Program, Internships, and Client Solutions Associates positions.
Economics majors are prepared for a diverse range of careers, but jobs in data analytics are of a particular interest nowadays. Availability of FactSet's platform at the Stamford campus plays an important role in enhancing our students' readiness for careers in this field.