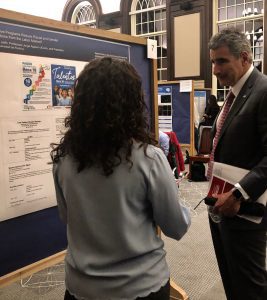 On October 30th, Economics undergraduate student Mary Vlamis presented her project 'Can Inclusive Programs Reduce Racial and Gender Discriminations from the Labor Market?' at the annual Fall Frontiers in Undergraduate Research poster exhibition.
She had the opportunity to present the project to students, faculty and others – including President Katsouleas (shown here).
Mary and Professor Jorge Agüero received a 2019 Social Sciences, Humanities, and Arts Research Experience (SHARE) award to work on this project, along with Research Scholar Francisco B. Galarza.
The project explores whether merit-based scholarships could reduce racial and gender discrimination in the Peruvian labor market, and how effective the national scholarship program is at narrowing the gap in hiring.