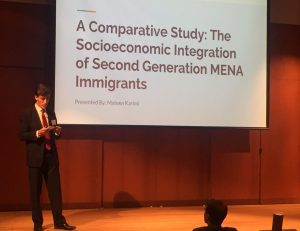 Sophomore, Mateen Karimi, presented his Holster Research Project, "A Comparative Study: The Socioeconomic Integration of Second Generation MENA Immigrants" to an interested group of students, family members, and UConn faculty and staff this past Friday at the Konover Auditorium.

The Holster Scholars First Year Project supports a small number of students interested in conducting independent research during the summer after their freshman year at UConn. Students are first selected to take a one-credit course to develop their research proposals. Of those in the course, a select few students are awarded funding to complete their projects over the summer.
Mateen's project, supervised by Professor Furtado, examines the socioeconomic status of second-generation Middle Eastern North African (MENA) immigrants in the United States. He found that while the native-born children of MENA immigrants have more years of schooling and higher incomes than white natives whose parents were both born in the U.S., MENA unemployment rates are substantially higher. Mateen's results also suggest that despite the very high average education levels of first-generation MENA immigrants, second-generation MENA immigrants complete even more years of schooling than their foreign born parents.
---