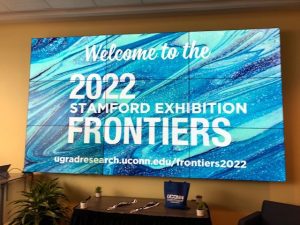 This year, marking the 25th anniversary of the Frontiers in Undergraduate Research Program at UConn, the Stamford campus had the first inaugural Frontiers event on April 12. The Frontiers program creates a culture of inquiry and engagement and enriches the undergraduate experience of our students.
At Stamford, students' presentations were in-person and guests from the local community were invited. Twelve Stamford students from various disciplines delivered results of eight diverse research projects they have undertaken during this academic year.
Dr. Smirnova's student, Matthew Gilshteyn, presented his research entitled "How Will Infrastructure Act Impact Nuclear Energy Production Costs?", which stems from his work in ECON 3431W – "Public Economics" class. In his paper, Matthew conducted regression analysis on the data from U.S. Department of Energy and Nuclear Energy Institute and using the regression equation estimated the costs of nuclear energy production for 2022 and 2023. Matthew concluded that the Infrastructure Act's allocation of resources towards alternative energy will decrease the cost of nuclear energy production by 8.2% by 2023. During the Frontiers event, Matthew answered questions from the audience and defended the nuclear energy as the safest energy source compared with other sources.
This year, the "posters" that students developed were in the electronic format and were projected on a big screen at the Welcome Center Atrium at the Stamford campus. Those posters will now be shown till the end of the semester on the monitors in the Concourse rotating among all eight projects.
The inaugural Frontiers event at the Stamford campus showcased the diversity of talent of our students and the continuing effort of the faculty to strengthen the undergraduate research program.
Thank you to the Office of Undergraduate Research and the Honors Program for organizing this beneficial event at the Stamford campus.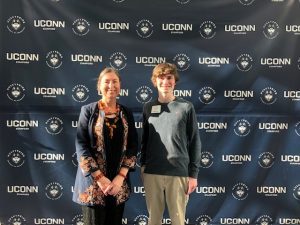 Photo: Dr. Smirnova (left) and Matthew Gilshteyn at the Frontiers in Undergraduate Research event in Stamford, April 12, 2022.
---