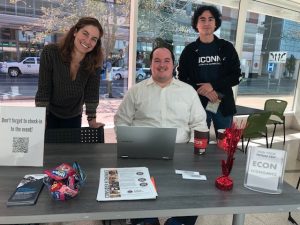 On September 15, 2022, there was a buzz around the Rich Concourse at the Stamford campus. Various academic fields, representing majors and minors offered at UConn Stamford, were showcased. The Economics Department was represented by students majoring in Economics with Professor Smirnova in attendance as well.
The Economics table was one of the most visited through the two-hour period. Economics seniors Miriam Salazar-Rey, James McQuade, and Gerson Jacinto enthusiastically shared information about the academic course of study, about various economics paths within the profession, and about the College Fed Challenge competition, a popular extra-curricular activity at Stamford.
Students also shared various career readiness events that they have attended on campus and competencies that they have developed in Dr. Smirnova's classes. Business community leaders' visits, career panels, Career Development Center professionals' presentations, and other events – all of these, in students' view, contribute to the satisfaction with the Economics major at Stamford.
---