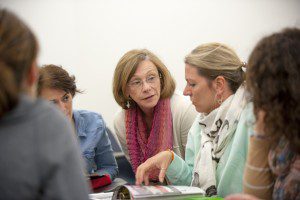 The economics major requires 24 upper-level economics credits (2000+), as well as 12 credits of 2000-level "related" courses. Students should remember that most 2000-level courses have 1000-level prerequisites and should plan accordingly.
A. Foundation Courses
1.  Principles courses: ECON 1201 and 1202 are required for all 2000-level courses in economics (ECON 1200 is a substitute for ECON 1201 and 1202). Either one of these principles courses will go towards Content Area 2 of the College of Liberal Arts and Sciences' (CLAS) General Education Requirements.
2.  Statistics: economics majors must take STAT 1000Q or 1100Q
3.  Calculus: economics majors must take one of the following calculus courses: MATH 1071Q, 1110Q, 1121Q, 1131Q, or 1151Q.
Students may substitute more advanced MATH and STAT courses with consent of the advisor.
PLEASE NOTE: Beginning Fall 2012, new majors will be required to have finished the Calculus requirement in order to enroll in ECON 2201.
B. Economic Core Courses
Economics majors must earn 24 credits in courses at the 2000-level or above, including two intermediate theory courses (ECON 2201 and 2202), at least nine credits in quantitative skills courses (ECON 2300 series) and/or intermediate theory courses (ECON 3000 level or above), and an economics W course.  The Department offers two options for completing the Writing Requirement: a 1 credit Writing in Economics course, ECON 2500W, or several 3 credit 2000/3000 level W courses. If students take ECON 2500W, they should plan to add an additional 2000+ level ECON course to satisfy the 24 credit requirement.
No more than 6 credits in ECON 2499 and/or 3499, Independent Study, may be counted toward the required 24 credits in economics courses at the 2000-level or above. ECON 2481, Internship Field Study, does not count toward fulfilling the major requirements, but will satisfy elective credit.
ECON 2201 and 2202 should be taken as early as possible, as they are prerequisites for most of the other 3000-level courses. ECON 2201 and 2202 can be taken in either order or simultaneously.  A lighter course load is recommended for students who take ECON 2201 and 2202 simultaneously.
Please refer to UConn's Undergraduate Catalog for the Departments' course descriptions.  Please note that not all courses are offered each semester.
Students entering the College of Liberal Arts & Sciences in the Fall 2007 or later must meet the above requirements. Students who entered CLAS earlier may opt to fulfill these requirements or the ones that apply to the catalog of the year they last entered the college. Note: The catalog year is the year you entered CLAS (or later), not the year you entered the University.
You must earn a minimum of a 2.0 average in your 8 major courses to graduate with an economics degree.
C. Related Courses
Related courses are classes outside the department, pertinent to the economics courses taken as part of the degree plan, and coherent as a group.  However, these 12 credits need not be all in the same department.  The Department of Economics has a list of pre-approved related subjects.  Students can take any course, 2000+ level or higher, in any of the below subjects and it will automatically be considered a related.
Additionally, the Department will approve any other double major or minor 2000+ level course as relateds, even if it is not on the below pre-approved list.  Keep in mind, these courses must be housed within a double major or minor program to be approved as relateds.
Courses numbered 2000 or above, from the following departments will be automatically considered related.
**Please note: any course cross-listed as an ECON course does not count as a related course.**
Accounting – ACCT
AFRA 3042/ HDFS 3042/ WGSS3042
Agriculture and Natural Resources – AGNR
Agricultural and Resource Economics – ARE
Anthropology – ANTH
Business Administration – BADM
Business Law – BLAW
Biomedical Engineering – BME
Civil and Environmental Engineering – CE
Chemical Engineering – CHEG
Cognitive Science – COGS
Communication – COMM
Computer Science and Engineering – CSE
Electrical and Computer Engineering – ECE
Engineering – ENGR
Finance – FNCE
Geography – GEOG
History – HIST
Healthcare Management and Insurance – HSMI
Journalism – JOUR
Mathematics – MATH
Mechanical Engineering – ME
Management – MGMT
Marketing – MKTG
Materials Science and Engineering – MSE
Natural Resources and the Environment – NRE
Operations and Information Management – OPIM
Philosophy – PHIL
Political Science – POLS
Public Policy – PP
Psychology – PSYC
 Sociology – SOCI
Statistics – STAT
Urban and Community Studies – URBN (EXCEPT FOR 3439)
D. "Which Courses Should I Take?"
For suggested course groupings for an economics major that would be especially apt for particular careers, please review our Customize Your Major page.   Please follow the masters and Ph.D. preparation track if you want to continue your studies in economics.  Together with your advisor, you can design your economics major to fit your interests and future career and educational plans.  In section E, you will find suggested Freshman and Sophomore courses leading into an economics major.  Please refer to UConn's Undergraduate Catalog for the Departments' course descriptions.
E. Sample Freshman-Sophomore Courses
There are many paths to graduation with a B.A. in Economics. Below is a sample course sequence for freshman and sophomore years. The sequence below assumes the economics degree is started in the student's first semester, however this is not necessary and the degree can be completed later in a student's career. For further questions, please contact an Economics Academic Advisor.
Sample Freshman-Sophomore Program
First Semester
ECON 1201 or 1202
STAT 1000Q/1100Q or Calc
ENGL 1010 or 1011
1 General Education Requirement
          UNIV 1800- First Year Experience
Second Semester
ECON 1201 or 1202
STAT 1000Q/1100Q or Calc
3 General Education Requirements
Third Semester
ECON 2201 or 2202
Science Lab General Education Requirement
3 General Education Requirements
Fourth Semester
ECON 2201 or 2202
Science non-lab General Education Requirement
3 General Education Requirements