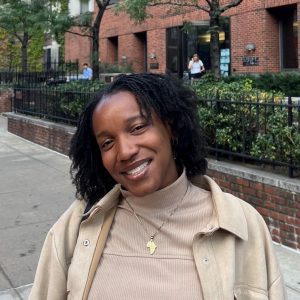 Elizabeth (Nikki) Miller graduated from UConn as an economics major in 2020—not the luckiest time for a graduation. After that, she participated in the AmeriCorps program and later began graduate studies at the Robert F. Wagner School of Public Service at New York University. We recently received an update from Nikki to share with all of you:
"I remember the economic courses I took at UConn had an element of quantitative rigor and I appreciate what I learned in those courses. I still have many of these course materials saved on my laptop. Some courses that gave me a great foundation for graduate school alongside being some of my favorites included Intermediate Microeconomics and Macroeconomics, Empirical Methods in Economics, Women & Minorities in the Labor Market, Labor Economics, and Development Economics. The professors who instructed these courses were amazing not only as instructors but as people who really were passionate about the work they did.
Besides being a student at UConn I also enjoyed being involved on campus in a variety of capacities. I participated in an early childhood literacy development program called Jumpstart as a volunteer, worked with other graduate students in the economics department as an economics tutor, got involved with other student groups such as Women & Minorities in Economics, starting out as a social media coordinator then becoming president in my senior year. As a part of this organization, I was able to attend the 2018 Undergraduate Women in Economics Conference which gave me insight into how women across the country were incorporating economics into their work and/or research. I also decided to become a resident's assistant during my final year at UConn to be a resource to new students and to help cultivate a caring and respectful community.
Graduating in 2020, a year filled with many unfortunate events, shaped my post-graduation plans. I ended up participating in an AmeriCorps program for one year as a math fellow, instructing amazing sixth graders at a charter school in lower Manhattan. That was a very challenging but rewarding experience and made me eager to get back into the classroom as a student. In Fall 2021, I began graduate school at the Robert F. Wagner School of Public Service at New York University. The economics course content and material I interacted with at UConn motivated me to apply to the master's in public administration program which had a specific emphasis on public policy analysis. At Wagner I curated my coursework to focus on policy analysis and evaluation, specifically related to land use and housing policy. Some of the courses I took included Advanced Empirical Methods, Public Economics, Evaluating Programs and Policies, Housing and Community Development, Environmental Infrastructure for Sustainable Cities, and Land Use, Housing and Community Development in New York City Seminar. In the Land Use seminar, I worked alongside two NYU law students to carry out a legal and data analysis on the NYC Fair Share Criteria. These analyses culminated in an article that was recognized by the American Bar Association (ABA) and will be published in ABA's Section of State and Local Government Law Review — The Urban Lawyer.
As a Wagner student, I worked part-time as a graduate research assistant on the data team at the NYU Furman Center for Real Estate and Urban Policy. Following my first year at NYU, I interned at the New York City Housing Development Corporation, a public benefit organization that finances affordable housing development in New York City, as a data analysis intern on the policy and analytics team. This year, I completed my studies at NYU Wagner and transitioned to a full-time position at the NYU Furman Center as a Data Management Associate where I am involved with the diverse data work occurring across the center.  I hope to use the skills and experience that I gain in this full-time role in a future capacity where I am pursuing a Fulbright Scholarship or Ph.D."
Congratulations, Nikki, on all of your accomplishments! If you are a current UConn economics student interested in pursuing an MPA degree, you can learn more about Nikki's career path by looking at her LinkedIn profile or you can reach out to her directly at eam9536@nyu.edu.
If you are a recent alum doing interesting things, please reach out to us at economics@uconn.edu. We would love to hear from you.