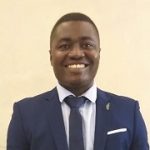 Stephen Acquah, a 1st year student in the Masters of Science in Quantitative Economics (MSQE), was named a 2022-23 National Association of Business Economists (NABE) Scholar.
The NABE Scholars program provides scholarships to NABE conferences specifically to minority students and early-career economists to attend NABE conferences and events.  Alex Gu (UConn MSQE 2022) was a 2021 designee of this award.
Stephen is one of 20 selected scholars  and holds a Master of Science in Economics from the University of Verona, Italy, and a Bachelor of Arts in Economics and Mathematics from the University of Cape Coast, Ghana. He aspires to become a future Tech-economics expert and a Certified Business Economist (CBE).
The UConn MSQE Program is a participating partner and students can earn the CBE certification by completing MSQE courses, completing the CBE certification exam, and two years of work experience in applied business economics or in a related field.